Blackstone Massage Therapy
Our Virginia Office!
215A S Main St, Blackstone, VA 23824
Opening soon!!!
We are planing to open the first week in September, with a grand opening ribbon cutting in October.
Work in Progress!
Ruth & Debbie are working diligently on remodeling the office space.
These are some of the pics of the old office.
Painting Party!!
Getting the office into shape!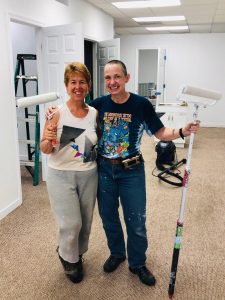 Carpet up
Pulled up the old carpet to get ready for the new one to come in…