Inner Wizdom Dragon Spirit is NCBTMB Approved Provider. Each of the courses listed provides a certificate for 7 in-person CE hours. The cost for each day is $300
Hands On Continuing Education
Passion in all we do.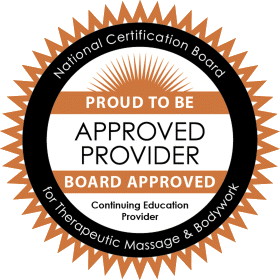 Classes Scheduled:
Last class of 2013
October 14, 2023: Catching the Cranial Wave: Cranial Sacral Therapy Basics
Please register Here to reserve your spot.
2023 Schedule:
Go Deep with Ease: work smarter, not harder (March 4, 2023)
Deep work is one of the most often requested techniques in massage. Many therapists spend enormous effort and cause physical strain and injuries to themselves trying to provide the most benefit to their clients. Save you thumbs, your wrists, your back, your body! This course is particularly helpful because it addresses not only the needs of clients but also extends the length and quality of the therapist's career, providing a new take on body work that aids in the prevention of injuries. Go Deep With Ease: Work Smarter, Not Harder is designed to help all therapists provide any level of depth required/desired for the most therapeutic, beneficial and satisfying results to clients. It is NOT limited to any modality.
Targeted Deep Tissue™–Lower Body Basics (April 1, 2023)
This class focuses on treating common problems and injuries on the lower body. We will concentrate on the lower back, pelvis, abdomen, legs, knees, and feet. Low back pain is one of the most prevalent complaints in our culture. Problems with the legs and feet affect everything above it, causing a multitude of problems in the hips, back and even the neck. Knee pain can be chronic and sometimes debilitating, and often stems from lack of mobility and muscles not working together as they were originally designed to do. This class gives you new tools and techniques to address these issues.
Lymphatic work for Injuries and Pain Relief (May 6, 2023)
There are few hands-on techniques to use with acute injuries or chronic pain. This course teaches a basic, easy to do and profoundly effective way to help clients in need. Lymphatic techniques have been able to reduce swelling and pain, decrease healing time for injuries or surgeries and reduce the pain for many terminal clients as well. It is a wonderful tool for a therapist to have when "regular" work is contraindicated or ineffective.
Stone Workers Basic – An introduction to using Stones as Tools (September 16, 2023)
The intention of this class is to introduce the art of hot stone therapy, stone care and how to utilize them as massage tools. Our techniques are designed to help you as a therapist acquire skills and incorporate the use of hot stones into your practice. The use of stones for therapeutic body work is an ancient practice. Moist heat penetrates deeply into muscle tissue eliminates toxicity, encourages blood flow and nutrients, and eases away tension and stress. Discover how to use these magnificent tools to benefit both you and the massage experience of your client.
Catching The Cranial Wave: Cranial Sacral Therapy Basics (October 14, 2023)
Learn the techniques of feeling the natural rhythm of the body in this experiential study. Discover the many benefits that this subtle modality will have on you and your clients. Sensitivity to the flow of the Cranial Sacral fluid, basking in the stillness where healing takes place and following the flow of energy will be introduced and experienced.
All of the above classes are Saturdays – 9am to 4:30pm, with 7 CE hours. The location is IN PERSON at our classroom in Meherrin VA. For any questions, please call or text:
Ruth Brown (518) 256-4933 or Debbie Vigneri (518) 248-7220.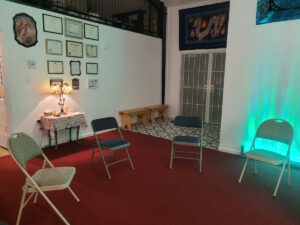 Our new training facility!
Our newly renovated space in Meherrin, Virginia.
Offering small, hands-on classes for massage therapists.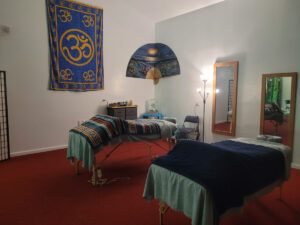 Bring Out Your Best
Come learn, practice, experience, and grow in a safe, supportive environment.
Massage Class Cancellation Policy:
Professional Development Classes require payment in full to reserve a spot upon registration.
If you need to cancel more than 1 week in advance, you will receive a full refund, minus a $5 processing fee.
If you cancel less than a week, but more than 24 hours in advance, you will receive a refund of 1/2 the cost.
If you cancel less than 24 hours, or do not attend, you will not receive a refund.